Published: June 7, 2023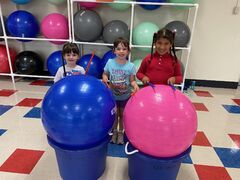 Kids Drum Their Way to Fitness at the YMCA
DrumFIT® for Kids aged six to twelve is a new fitness class offered at the Cumberland Cape Atlantic YMCA. Each session gets kids moving to their favorite tunes by combining cardio and music while energetically beating a drum. Valerie Gouse, a certified cardio drumming instructor, guides the participants through basic movements like squatting, bending, twisting, and drumming. These all help improve coordination, rhythm, and motor skills.
The next DrumFIT® for Kids class will be offered on Tuesdays from 6:15pm to 6:45pm starting on July 11 for six weeks. Parents must remain in the room with their kids; if space allows, the parents may participate in the class, also.
For information about pricing and other details, please check www.ccaymca.org or call the Y at (856)691-0030.
Gouse is a Writing and Communication Professor at Rowan College of South Jersey at Cumberland and has been teaching adult cardio drumming classes at the CCYMCA for over a year. She brought this energetic workout to kids because she saw her own girls, ages 4 and 6, pick up drumsticks and keep the beat on the fitness ball while she practiced routines at home.
Gouse explained, "This class promotes physical health and boosts mental health while having fun. The kids and their caregivers who drum alongside them step, squat, and smile throughout the entire workout."
The new DRUMFIT for Kids class will begin on July 11 at the Cumberland Cape Atlantic YMCA, in Vineland. It will be held from 6:15 to 6:45 p.m. for six weeks. The class provides a fun workout for kids aged six to twelve. Shown here enjoying the class are Emily, Natalie, and Dasha, all of whom definitely seem to have the beat. For information about registration times and prices, please check www.ccaymca.org or call (856)691-0030.