Published: August 24, 2023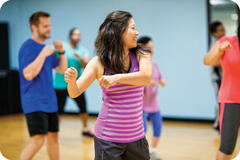 YMCA Announces Fall Group Exercise Line-Up
From chair exercises to Zumba, the fall season at the Cumberland Cape Atlantic YMCA has group exercise covered. The new roster of classes will begin during the week of September 5 and continue through October 29. These are open to YMCA members and to the public, aged fifteen or more, who sign up as program members to take specific classes. All will be held at the YMCA building at 1159 East Landis Avenue, in Vineland. Starting times are as early as at 5:45 a.m. and ending times are as late as 8:30 p.m. Days are Mondays through Saturdays. Registration is underway now.
Forty-four different classes are available. They range from Ab and Booty Bootcamp to six types of yoga. New this session are Chair Fit for Life, Chair Stretch and Tone, Spin to the Oldies, Hatha Yoga, and Yoga Blend.
Pam Heaton is the YMCA's Healthy Living supervisor. She said, "We are constantly adding to our group exercise offerings. We hope that athletically oriented people as well as less active adults will register for a course or two. We welcome all levels at the Y."
Times and prices vary according to the number of days per week (one, two, or three) that each class meets. All are available to YMCA facility members at no charge.
For more information or to register, please visit the Y, check the Group Exercise page on our website (click HERE), or call (856)691-0030.