Published: September 7, 2021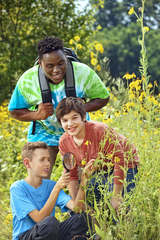 What is Welcoming Week?
Celebrated each year in September, Welcoming Week elevates the growing movement of communities that fully embrace new Americans and their contributions to the social fabric of our country. It's a chance for neighbors—both immigrants and U.S.-born residents—to get to know one another and celebrate what unites us as a community.
Our YMCA welcomes ALL people every day and we are proud to celebrate the diversity among our staff, members, and community.
Supporting Haiti
Free and Open to the Community
Welcoming Week is a time to celebrate what unites us as a community. Especially in times of need, we come together to help one another. Haiti was recently devastated by a Hurricane and we are happy to work with another local Christian non profit group, Let The
Children WI INC. to share the Haitian culture with our members and offer options on how we can all support our neighbors. Experience the food and music from Haiti and learn more about relief efforts.

Saturday, Sept. 11; 9:00 am - 11:30 am.
Welcoming Week Dance Lessons
Free and Open to the Community
Registration is required. Limited space per class. Must be 16+ to register. Members can register online. All others may call the Member Service Desk to register (856) 691-0030.
Salsa Lesson
Tuesday, Sept. 14; 7:00 pm - 7:45 pm
Bachata Lesson
Tuesday, Sept. 14; 8:00 pm - 8:45 pm
Classical Bharatnaytam and Bollywood Lesson
Thursday, Sept 16; 6:15 pm - 7:15 pm